Initiatives to Reduce Environmental Impact
1. Environment Management System
TRM established a unique environment management system (EMS) which applies PDCA cycle to continuously approach to environmental challenges. We are working to continuously reduce environmental impacts in the management operation for API, through the cycle of four steps; set targets (P), assess performance (D), analyze budget vs. actual (C), and implement countermeasures for a better performance (A). The Asset Management Department of Activia Management Division reviews actual performances in its monthly meeting and reports the results to the management once a year, then receives feedbacks and instructions for further improvement for the following year, from the management.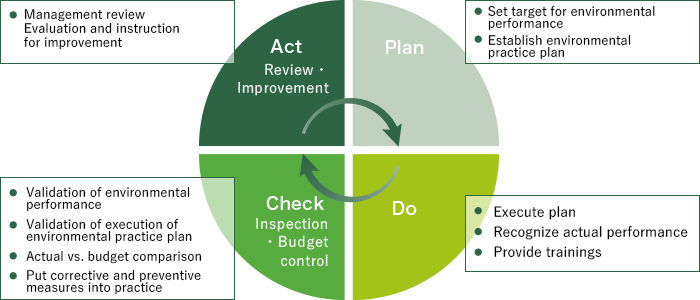 2. Environmental Impact Reducing Works
In accordance with the medium- to long-term asset management plan, in every fiscal period, API undergoes engineering works to reduce environmental impacts such as installation of LED lightings and energy-saving air-conditioners. Not only common areas, but tenant spaces also get renovated occasionally in the event of the tenant replacements.
3. Green Lease Agreement
API and its tenants have concluded agreements which includes the green clause and share the importance of preservation and improvement of the comfort and productivity of tenants and properties. The green clause states that they should share information and work together for green certification acquisition, environmental target setting, response to environmental regulations, etc.
API and one of its tenants have signed a memorandum of understanding on the green lease linked to refurbishment works. It stipulates that when the tenant enjoys profit from energy-saving effect of the refurbished equipment the property owner invested in, the tenant shall return a reward to the owner.
We keep making effort to multiply the green leases through developing deeper relationships with tenants.
4. Green Procurement Standard
As a member of TFHD, TRM shares the Group's "Sustainable Procurement Policy" published on January 31, 2020 and works on challenges to environmental crisis such as climate change. Our objective is to work on this goal, together with all the stakeholders including our suppliers.
In line with the Group's procurement policy, TRM established the "Green Procurement Standard" to translate the policy into practical measures.
This standard broadly states to suppliers that environment-friendly procurement is to be carried out, and together with them, TRM works to promote more sophisticated efforts based on the Policy.
The scope of application of this standard includes direct or indirect transactions related to products, services, raw materials, and design/construction procured by TRM and API.
Environmental Performance
 
FY2015
FY2016
FY2017
FY2018
FY2019

Energy consumption per year
(Note 2)
Actual
(MWh)
86,660
102,039
104,804
112,120
116,744
Intensity
(MWh/㎡)
0.23
0.25
0.22
0.22
0.21
Renewable energy generation per year
(MWh)
0.06
0.05
0.04
0.04
0.02

CO2emissions per year
(Note 3)
Actual
(t-CO2)
34,197
37,285
40,910
46,172
45,347
Intensity
(t-CO2/㎡)
0.093
0.090
0.087
0.089
0.083

Water consumption per year
Actual
(㎥)
526,515
533,757
591,392
675,847
701,847
Intensity
(㎥/㎡)
1.42
1.29
1.25
1.30
1.29
Recycled water (Grey Water and Drainage)
(㎥)
-
12,072
14,961
18,993
30,768
Waste generation per year (t)
(Note 4)
2,824
3,209
3,665
4,262
4,367
Third-party assurance statement
(Note 5)
-
-
-
-
-
PDF
PDF
| | |
| --- | --- |
| (Note 1) | Principally the figures shown above are the cumulative amount of the entire portfolio during each fiscal year. (number of properties FY2015:30, FY2016:37, FY2017:40, FY2018:42, FY2019:43) |
| (Note 2) | Total amount of consumption fuel (gas, heavy oil, etc.), electricity and district heating / cooling of the properties. |
| (Note 3) | Total amount of Scope 1 (Direct emission from fuel consumption) and Scope 2 (Indirect emission from electricity consumption, etc.). The factor and the method applied to the calculation conform to "GHG Emissions Accounting, Reporting and Disclosure System" of the Ministry of the Environment. |
| (Note 4) | Excludes waste generated by tenants. The figure of FY2016 excludes properties of which data were not available (the figure represents 91.5% of the entire portfolio). |
| (Note 5) | As of December 8, 2020 |
GRESB Assessment
GRESB is a benchmarking assessment to measure ESG integration in the real estate sector.
GRESB survey does not target individual pieces of real estate, but evaluates the efforts of real estate companies, REITs and funds for sustainability.
In the GRESB Real Estate Assessment evaluating sustainability performance of entities with management of lease properties, API received for three consecutive years the highest "5 Stars" in GRESB rating which is based on GRESB Overall Score and its quintile position relative to global participants.
Also, we won a "Green Star" designation for seven consecutive years by achieving high performance both in "Management Component" that evaluates organizational structure and "Performance Component" that assesses environmental performance.

We received as well the highest "A Level" for the GRESB Public Disclosure which assesses the width of ESG disclosure.

TRM is a GRESB Real Estate Company & Fund Manager Member and takes part in the international initiative to improve sustainability.

We will continue to manage our portfolio with keen attention to sustainability, promoting environment-friendly and energy-saving measures in the properties and collaborating with our stakeholders including tenants and local communities.
Environmental Certifications
CASBEE
CASBEE (Comprehensive Assessment System for Built Environmental Efficiency) is an evaluation system that ranks buildings and structures in terms of their environmental performance. In addition to each building's ability to reduce its environmental impact across a variety of areas including energy and resource conservation as well as recycling, this system comprehensively evaluates the environmental performance of each building and structure including its aesthetic appeal. The evaluation result is represented in 5 ranks (from one "★" to five stars "★★★★★").
BELS
BELS assessment is provided under a public evaluation system, which evaluates the energy conservation performance of houses and buildings, established by the Ministry of Land, Infrastructure, Transport and Tourism. Third parties evaluate the performance of buildings based on the primary energy consumption defined in energy saving act (Note), regardless of whether a building is new or not, and the evaluation result is represented by a number of stars (from one "★" to five stars "★★★★★").
BELS assessment, which is the first public evaluation system specific to energy conservation performance in Japan, is expected to promote further improvements by providing appropriate information and promoting the energy conservation performance of buildings.
| | |
| --- | --- |
| (Note) | Act on the Rational Use of Energy |
| | |
| | |
| --- | --- |
| (Note) | Evaluator: Japan ERI Co., LTD |
| | |
Website of BELS(Japanese only)
Tokyo Low-Carbon Small and Medium-Sized Model Building
Tokyo Low-Carbon Small and Medium-Sized Model Building is a building ranked A1 or higher level by the Tokyo Metropolitan Government, evaluating CO2 emission intensity with the self-assessment indicator (CO2 emission benchmark) established by the government in 2012 with an aim to promote a real estate market in which low-carbon buildings with fewer emissions of CO2 have higher value.
Website of Tokyo Low-Carbon Small- and Medium-Sized Model Building (Japanese Only)
DBJ Green Building Certification
DBJ Green Building Certification, offered by Development Bank of Japan Inc. (DBJ), is a comprehensive evaluation system which includes not only an environmental perspective but also a social one (owner response to social needs of the diverse stakeholders of the properties), DBJ identifies and certifies "Green Buildings", which are essential in today's real estate market.